Location on the Walking Tour
St. Lawrence College, where the first Greek Pavilion in Folklore was held, 100 Portsmouth Ave.
Audio Clip
Listen to Spiro and Maureen Sakell describe what it was like organizing and attending Folklore.
Folklore was an event held across Kingston for many years, beginning in the 1970s. It was run through the Kingston and District Folk Arts Council, and the goal of Folklore was to showcase as many cultures as possible within Kingston. Different ethnic communities would have pavilions around the city in which they would showcase their traditional foods, dress, dances, and more. Kingstonians would purchase a "passport" which detailed the locations of all the different pavilions around the city.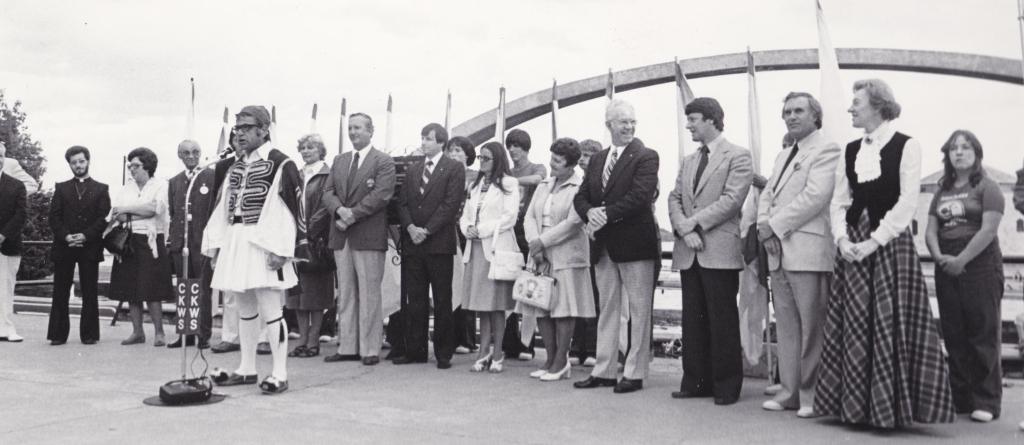 Many members within the Greek community are nostalgic for Folklore, as it was a wonderful annual event held for many years that involved the entire community as they celebrated and shared their culture. Many narrators recalled Folklore fondly in their interviews, sharing their memories of days filled with Greek dances, lots of Greek foods, Greek costumes, Greek decor, and more.
In a 1992 booklet about Folklore published by the Kingston and District Folk Arts Council, around 20 years after the first Folklore was held, it is described as "the heart and soul of all those who make up the multicultural mosaic of Kingston". Folklore is advertised within the booklet as a way to "become a world traveler without even leaving Kingston."Folklore was a big event in Kingston at one time: many Kingstonians participated annually, it was a big part of Kingston's "social calendar" for two decades, and the event celebrated multiculturalism in an exciting way. It is truly incredible to look back on photographs of the pavilions and see how much effort was put into completely transforming a space in order to craft an atmosphere that made one feel as if they really were travelling through cultures and experiencing different traditions.
THE GREEK PAVILION
The first Greek pavilion for Folklore was held at St. Lawrence College in 1973. Folklore that year took place in July and consisted of nine "Folk Groups": Portuguese, Italian, Austrian, Hungarian, Greek, Danish, Scottish, Filipino, and Ukrainian. Buses ran between the pavilions for free, funded by the Kingston and District Folk Arts Council. A passport granting admission and detailing the locations of the pavilions costed only $3 that year.
Maureen Sakell, a long-time active member of our Greek community, described the beginning of the Greek community's involvement in Folklore in her interview. It was her sister-in-law, Geri Sakell, who urged the Greek community to get involved. Both Maureen and Geri were involved in what was called the Daughters of Penelope at the time. It was the women's division of AHEPA, a Hellenic cultural organization within Greek communities across North America. Maureen remembers when the Kingston and District Folk Arts Council contacted the Greek community about being involved in Folklore, but the community council at the time said it would be too much work to get involved. Geri wanted to take on Folklore, however, and so she attended a Folk Arts Council meeting representing the Daughters of Penelope. "I remember thinking 'oh dear, she is going to get us into something'," Maureen said, "and she did!". All of the Daughters of Penelope got together to organize the first Greek pavilion for folklore. It was a lot of work. Maureen remembers how Tessie, Maria and Effie Karis, Bessie and Katina Zakos, Toula Leos, the Karkoulis ladies and many more worked together to make this happen. They cooked and they baked tons; Maureen remembers they had pans and pans of pastitsio (a traditional Greek lasagna-like dish).
Maria Triada Karkoulis also described in her interview the incredible amount of work the Daughters of Penelope put into making food for Folklore. They would cook the food elsewhere and transport it to St. Lawrence for the event. They made Greek salad, pastitsio, loukoumades (honey-coated deep-fried balls of dough), and various pastries. People who attended the pavilion would buy the food and either take it out or sit down and eat it. It was a great fundraising event for the Greek community too. Maureen feels that the Greek pavilion was one of the most popular to visit because of the food.
Folklore was held at St. Lawrence College for some years before it took place in the Portsmouth Olympic Harbor. Eventually, Maureen took over from Geri as the chairperson for the event. During each folklore, everyone in the community would help out. Everyone had a role to play, from cooking to dancing to decorating. As Maureen remembers, she and her family did a lot of the decorations. Spiro, her husband, would run the bar, along with others. Katina Zakos was in charge of "all the displays" because she was very artistic. Geri Sakell was in charge of greeting those who were arriving to the pavilion. Everyone in the community would dress up in traditional Greek dress, and Maureen and Spiro made their own costumes for their kids.
The entire space would be transformed for Folklore. The decor made it look as if there was a Parthenon. There was a bar, displays of artifacts, costumes, and any mementos that came from Greece tastefully used to decorate the space. There was Greek music always playing in the background, and lots of Greek dancing. Maureen jokes that the Greek community was not only the organizers but also the entertainment! Visitors could join in and dance too. They could drink traditional Greek drinks like ouzo and eat traditional Greek foods.
In 1975, a large project to complete the first Greek community hall, adjacent to the church, was completed. The effort was completed with tons of cooperation and dedication from the whole Greek community, with many volunteering their time to see the hall finally built. Today, our church has two halls to host our cultural events, but at the time, the construction of this first hall opened up a whole new world of possibilities for the Greek community. Now, events could be held within our own church building. Greek School and Sunday School classes and concerts could be held here, Greek dancing lessons could be held here, wedding and baptism receptions could be held here, and, importantly at the time, Folklore could now be held right within our own church!
In 1976, the Whig Standard wrote an article (below) describing the new hall and the preparations members of the Greek community were making in order to turn the hall into the Greek pavilion for 1976's Folklore. As we can see, a lot of attention to detail was put into designing the space for the pavilion: community members donated their Greek materials for the event, the walls were covered in tapestries, and vases and various ornaments were brought to the space to decorate it. As for the food and entertainment, a lot of effort went into practicing the dances that would be preformed during Folklore, and a group of over 20 women got together to make an assortment of traditional food to serve.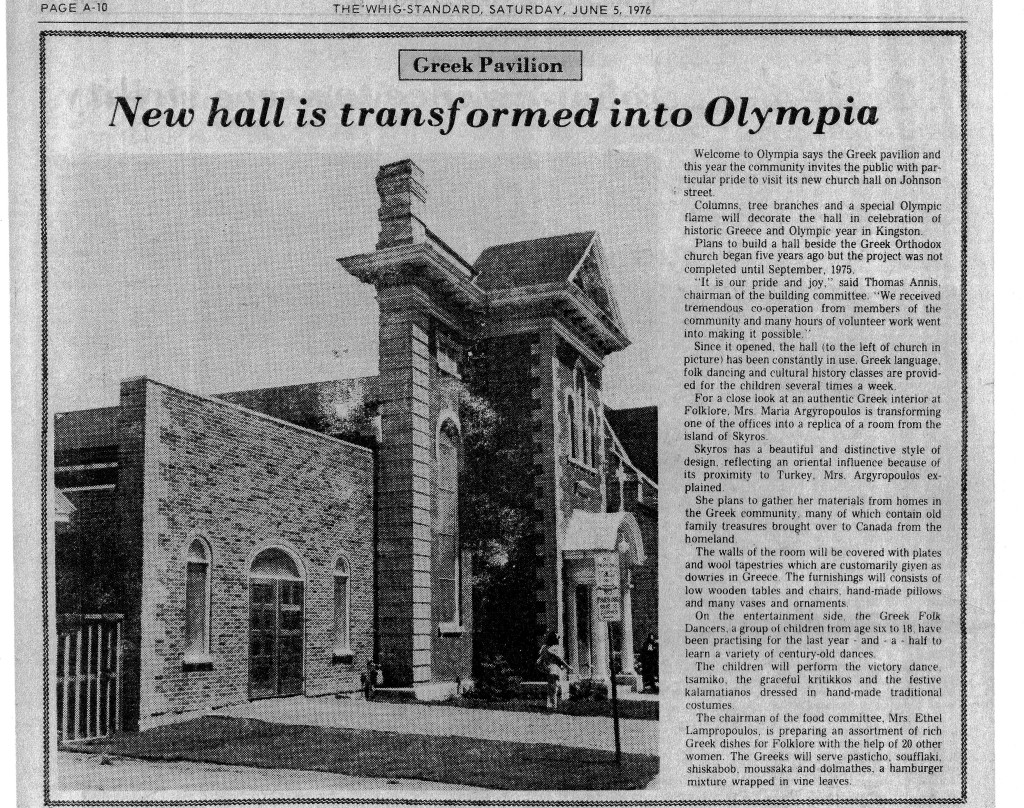 It was when the Greek community got their new hall that Ethel Lampropoulos became the chairperson for Folklore. Maureen "passed the torch on" to her, and later onto Murva Nikas who was the chairperson for years, putting in a lot of work and dedication to make Folklore successful. During the years the Greek Community was involved in Folklore, Maro Argyropoulos and Maria Menikefs were also leaders of the event, among others.
Murva Nikas was chairperson for Folklore in 1978, although she has chaired six different times. The adjacent collection of photographs took place in 1978 in the (first) hall at our own church. As we can see, a lot of effort went into decorating the space. A scene was built, displaying traditional Greek dress. The church interior was set up as an educational space about our religion for visitors. The exterior was also decorated: we can see wooden guard-houses with guards in traditional dress stationed outside our church hall's door. There is a photo included to the right of women preparing food for Folklore. There is also a photo of community members parading the Greek flag outside, in downtown Kingston.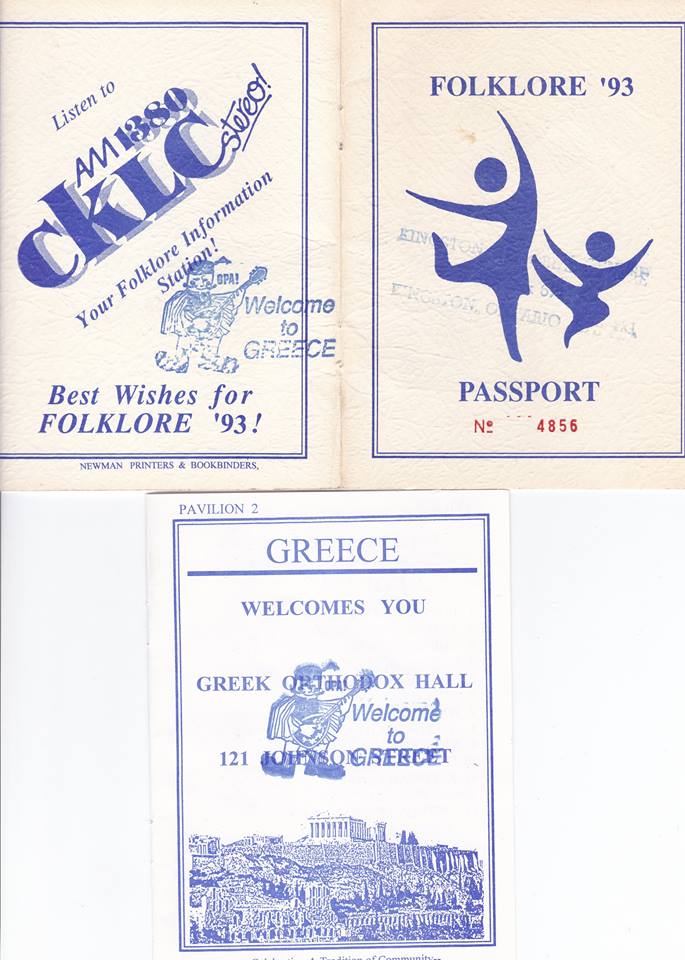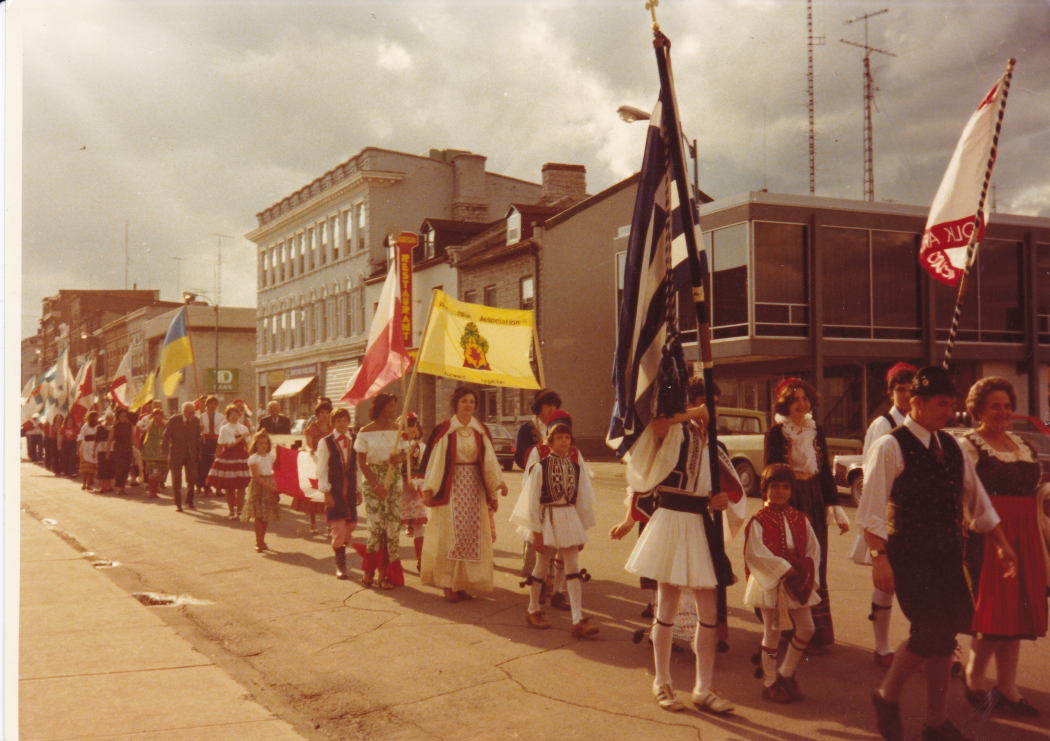 To read the full story, click here.