Location on the Walking Tour
360 Princess Street, the location of Zakos Bros Ltd, an early business owned by the Zakos family.
Audio Clip
Listen to Margaret Zakos and Peggy Geracimo describe their grandparents' immigration to Kingston in 1914.
Immigration to our Greek community was experienced in two waves. Very few Greeks had immigrated to Canada before World War II. There was no official Greek community established here at the time, and there wouldn't be for many years, but the existing Greek families remained close-knit. As the "Greeks of Kingston" section in the 1992 Kingston Folklore Pamphlet, written by an active long-time member of our Greek community (Murva Nikas), states:
"The first recorded Greek immigrant to arrive in Kingston was a man by the name of Agiorgitis who came here shortly after the turn of the century. Until the Second World War, there were only a few Greeks who followed his arrival. They were the Sakell, Karis, and Playanokos brothers along with James D. Zakos and James Callas, followed by Nicholas Speal, George Palavos and George Athanos, Peter Karis and Paul Pezoulas." 
For this project, we had a chance to speak with members of the Zakos, Karis, and Sakell families. In many instances, the early Greek families in Kingston became related through marriage. The photo below shows a family gathering of the Sakells and Zakos's, since Crysanthy (née Zakos) married Andrew Sakell. The Sakell and Karis families were also cousins.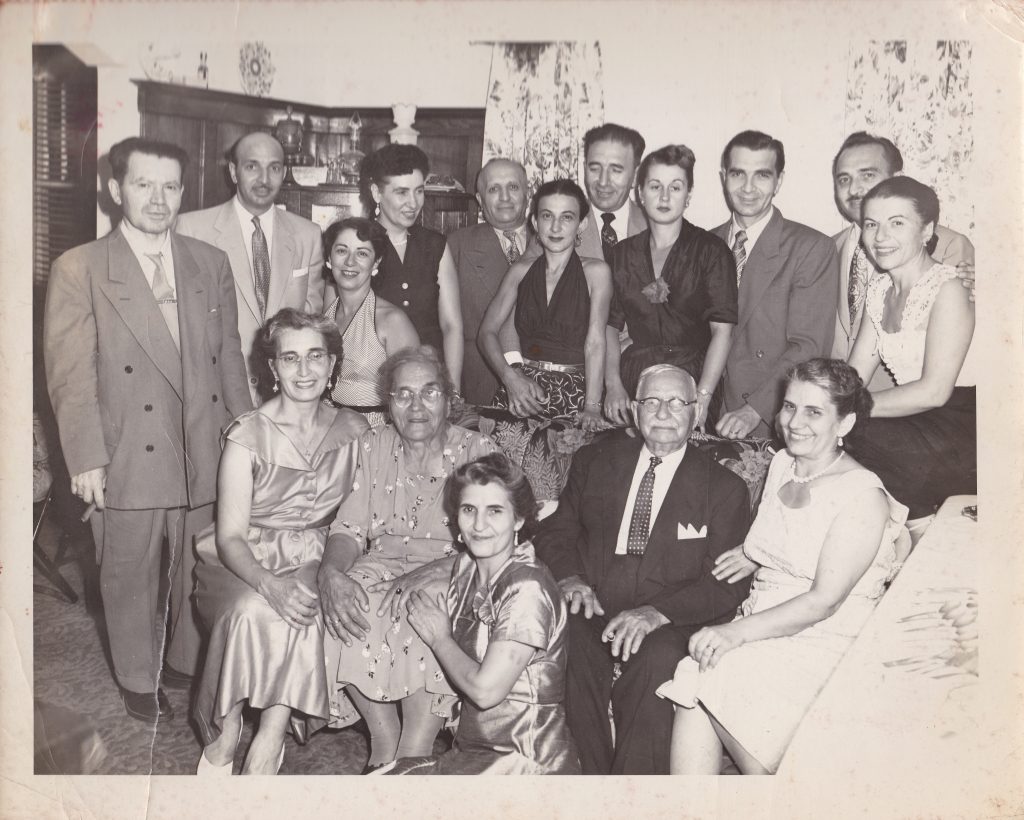 The second, and largest, wave of immigration to Kingston occurred after World War II. There were little to no opportunities for immigration to Canada between the beginning of WWI and the end of WWII. This post-WWII wave was significant, and prompted the establishment of the Greek Orthodox Church in Kingston as well as other cultural institutions, such as Greek School, Folklore, and more. Before WWII, it was AHEPA and the Daughters of Penelope, rather than an official Greek Community, that provided Greek-Kingstonians with a connection to their Hellenic roots. The early Greeks in Kingston would have attended St. George's Cathedral for their church services.
One can only imagine the disorienting effects and psychological stress being among the first immigrants from your home country to a new, foreign land would have entailed. There was no Greek community established in Kingston at the time – something later Greek immigrants could have used a cultural safety net, even branching out into the broader society through connections within the Community. Kingston's first Greeks arrived without knowing the language and without having any cultural or religious connections here. When looking at immigration patterns, we can see that Greeks tended to immigrate to where there were already Greek communities established. Thus, it is the early Greeks in Kingston who paved the way for others to come overseas – often times directly sponsoring the immigration of friends and family. It is to their strength, resilience, and often their entrepreneurial spirit, that we owe the establishment of our Greek community.
One of the earliest Greek families to immigrate to Canada was the Zakos family. James Zakos came to Kingston in 1914; before then, he had lived in Chicago from 1887 to 1895. He then returned to Greece and married Helen. James and Helen's grandchildren, Margaret Zakos and Peggy Geracimo, tell the story of their grandparents.
In 1914, when James moved to Kingston, he opened the Olympia fruit and vegetable market. He brought his older children to Canada shortly after that, and later he brought his entire family over from Greece, including his wife, in 1925. James and Helen Zakos opened a series of other successful businesses afterwards.
The first photo below depicts the children of James and Helen in 1910. The second photo depicts James (left) and Helen (right) in Kingston during their senior years.
James had been a merchant in Greece. He had also been working on a farm to make food for the family. His passport described him as a merchant, and Margaret and Peggy are not sure if he could have immigrated otherwise. At the time, immigration laws in Canada were more strict and favored those who could show they would contribute financially to Canadian society.
James and Helen lived at 297 Division street. When the Zakos children grew older, the ones remaining in Kingston "all lived within blocks of each other". Kingston was small back then, and "Palace Road was the end of Kingston". The Zakos family remained very close. The Sakells, another early Greek family in Kingston and a family connected to the Zakos's through marriage, would often join them. The Zakos's were a big group, and "all the cousins were together all the time"; Margaret and Peggy recall that it felt like they were all one big family.
The Sakell family was another one of the earliest Greek families to Kingston. Spiro Sakell, a narrator for this project, was born in Kingston to Greek parents named Andrew and Crysanthy. Andrew Sakell had immigrated from Greece when he was 16 years old, first going through Ellis Island, and ending up in Chicago. He had brothers already living in Kingston who eventually convinced Andrew to come join them. Once Andrew made the trek through the United States to Kingston, he never went back. Eventually he returned to Greece to marry, and brought Crysanthy with him to Kingston after two years. We will hear much more about the Sakell family during the section of this walking tour focused on Work and Businesses, since Andrew and his brothers had many entrepreneurial pursuits, operating restaurants and ice cream parlors along Princess Street.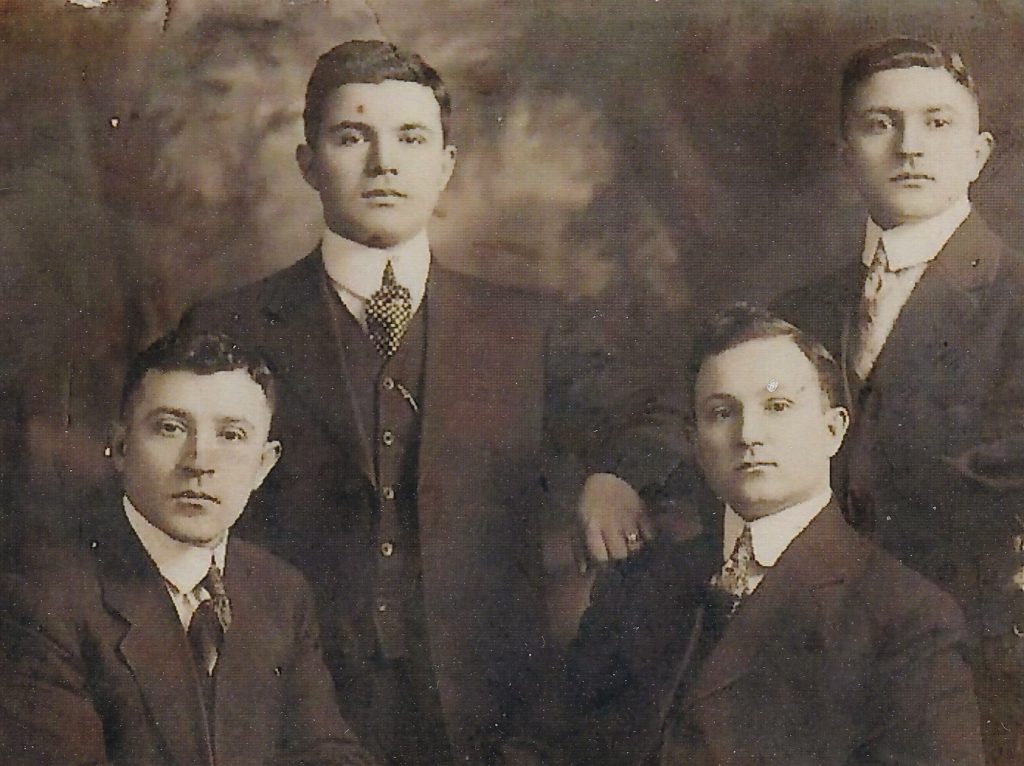 The Karis family was another one of the earliest Greek families in Kingston. The Karis family and the Sakell family were first cousins with each other, and the Sakells were related to the Zakos's through marriage. These early Greek families were close-knit. Maria Karis Brousalis, a narrator for this project, remembers that the children from these families "grew up like siblings". When Maria was growing up, she remembers there were four Greek families at the time: the Sakells, the Georgious, the Karis's, and the Zakos's.
Peter Karis, Maria's great-uncle, born in 1885, immigrated to Canada in 1906. He was the first of the Karis family to do so.
Peter's brother, Konstantinos, had seven children; a number of them eventually immigrated to Kingston to join their uncle Peter while others remained in Greece. Bill (Vasilios) Karis was the first out of Kostantinos's children to immigrate. He came to Canada in 1912, followed by Frank Karis (Maria's father, born in 1901) in 1914, being only 13 years old at the time. World War 1 broke out as he was passing England on his way to Canada! Eventually, Thomas Karis immigrated to Kingston in 1917 as well.
The Karis brothers, together with their uncle Peter, became involved in the ice cream business. They owned restaurants, ice cream parlors, and an ice cream manufacturing facility. Because the Karis family was cousins with the Sakell Family, when the families first came to Canada, they lived together. According to 1911 Canada census, Peter Karis and the Sakell brothers (Andrew, George, John, Thomas) lived at 208 Princess St. Later the families were also connected through business partnerships in the ice cream parlor business.
Frank Karis married Anastasia (Tessie) Kontogiorgos-Karis, a Greek-Canadian from Ingersoll. Together they had Dennis, Diane, and Maria (the narrator in our project). Frank's education was at a Grade 6 level when he left Greece. He taught himself English. Maria remembers that he loved music. He used to play music all the time, and he loved reading; she doesn't remember him without a book. There is a photo of him with a mandolin. He was also passionate about education. Her mother, Tessie, was born in Canada of Greek parents. Tessie was raised "very Greek", and never heard a word of English until she started school.
Tessie is described by her granddaughter (Maria's daughter, Kristina) in the following quote:
"Her full first name was Anastasia, but she was known as Tessie.  She was born in Brantford, Ontario in 1916 but was sent to school without speaking any English.  This must have been hard for her, especially in small-town Ontario… She actually wanted more than anything to become a teacher, but in her time and day she was not allowed to go to teachers' college by her parents.  So, she got married instead… and raised three children who all became teachers… Also, as a married woman, she became a leader in the Greek Community in Kingston, Ontario – not only did she help the women in her Greek-Canadian community, but many of the Greek-Canadians currently in Kingston were allowed to stay in her house, rent free, for a few months until they got on their feet.  She and her husband helped them find jobs and places in the community."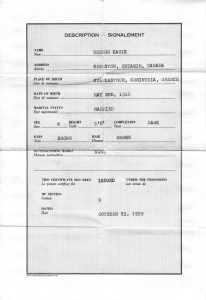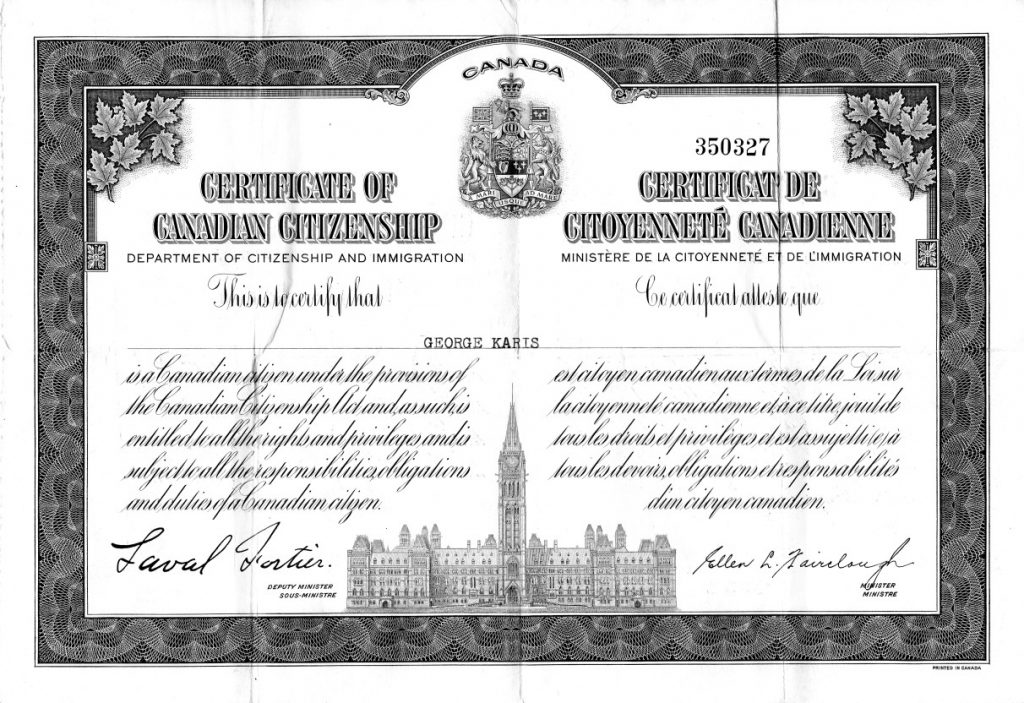 In looking at the history of Canadian immigration policies, we can see how difficult the situation for Greek immigrants must have been due to discrimination and immigration regulations. To give a backdrop of immigration policies in Canada at the time, it is important to situate the Greek immigrant experience within a timeline, with the following  facts taken from the Canadian Council for Refugees's A Hundred Years of Immigration to Canada timeline.
In 1901, only 12.7% of the Canadian population was comprised of immigrants. Immigration to cities was heavily restricted, as an emphasis was placed on populating the Western prairies.
In 1906, an immigration act was passed, which "enable[d] the department of immigration to deal with undesirable immigrants".
This took form in 1910's prohibitions to "any race deemed unsuited to the climate or requirements of Canada, or of immigrants of any specified class, occupation, or character".
In 1911, 22% of Canada's population was comprised of immigrants, but immigration became very limited during the first World War.
The Great Depression brought a severe limit to Canadian immigration as well. In the 1930's, immigration was restricted to American citizens and British subjects, and "agriculturalists with economic means". There was also a widespread "deportation of the unemployed".
In 1934, 94% of naturalization applications were denied.
The drop in immigration during this time was so severe that in 1941, only 17.5% of the population was comprised of immigrants (a big drop from 22%); and in 1942 immigration had reached its lowest point of the century.
The following immigration document is from the Zakos family. It depicts the Canadian government's approval of James Zakos (who had already immigrated to Kingston in 1914)'s attempt to bring his wife and children over to Canada with him. It is stamped with the date April 18, 1925. It was common for Greek immigrant men to first establish themselves in the new country before sponsoring their family to join them. James was successful in bringing his family over as this was right before the cut-off of immigration in the 1930's.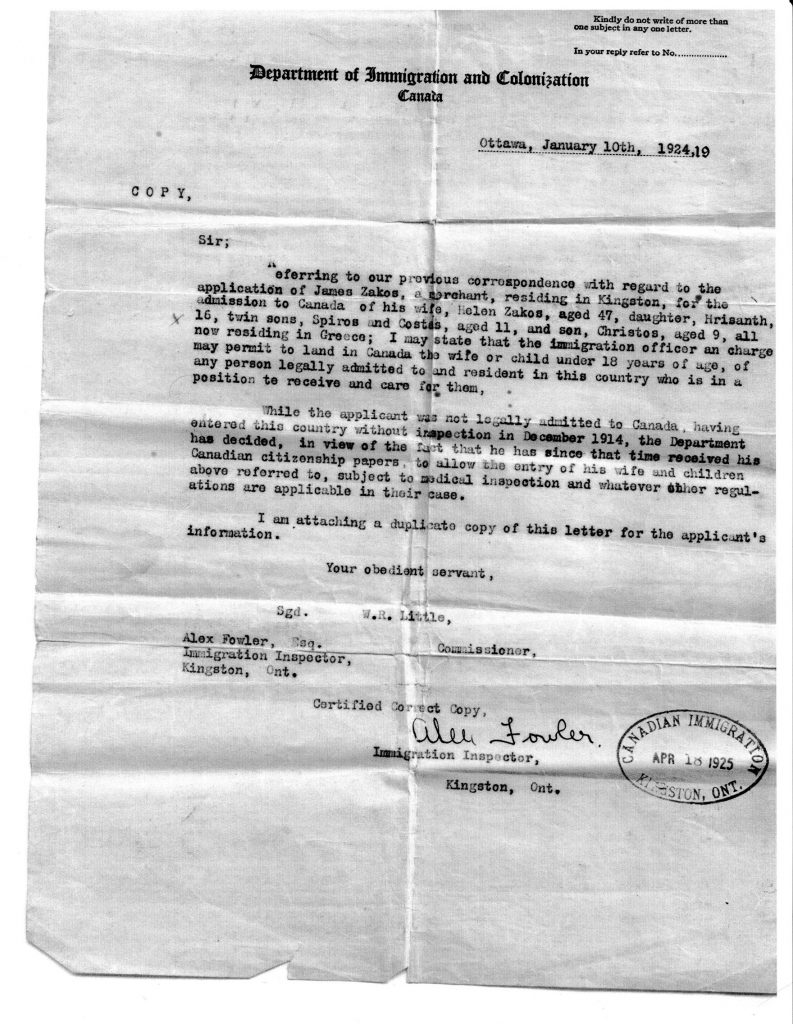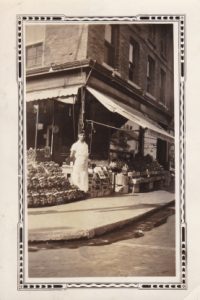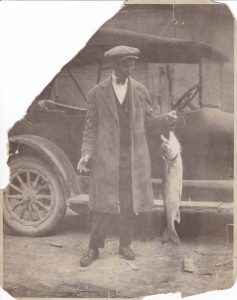 To read the full story, click here.