Location on the Walking Tour
The church classrooms at Koimisis Tis Theotokou Greek Orthodox Church, 121 Johnson St.
Audio Clip #1
Cleo Frantzeskos describe her experiences as a Greek School teacher, and the importance of Greek School for passing down both language and culture. 
The following audio clip is in Greek
.
Audio Clip #2
Listen to George Katinas describe the importance of passing down the Greek language to his daughter.
In the upstairs section of the Koimisis Tis Theotokou Greek Orthodox Church in Kingston, there are two large classroom spaces. Here, Greek school is held on Saturdays and Sunday School is held on Sundays. It is in this space that our Kingston Greek History tour will explore how Greek Canadians preserved and continue to preserve their culture, religion, and language abroad.
Our church building was purchased in 1964, following the largest wave of immigration to Kingston from Greece and, with it, the largest need for a strong center-point of the community. Beforehand, the community would meet in homes or in rented-out halls. In speaking with Maria Karis Brousalis for this project, we learned about the state of the Greek Community before there was a large influx of Greek immigrants to Kingston. Her family, the Karis family, was one of the earliest families to immigrate here. At the beginning, she told us, the Greek community was very small, comprised of only a few families. The members saw each other only on name days (the day commemorating a Saint one is named after), or other important ceremonies. The early Greeks in Kingston considered themselves cousins. They were close-knit, but there was no formal community structure: the community was not organized and there was no church. They attended Saint George's Cathedral for church services, which is located close to where our church is today, and they had Holy Communion there. As the Greek community grew, however, it was clear that there would need to be a distinct location for the community to congregate in.
The Greek Orthodox Church, such as our own Koimisis Tis Theotokou, serves a special role in the Greek community. It is the religious center of the community, but it is also an important location for cultural upkeep in general. Within this space, there are the classrooms for Greek School and Sunday School, as well as a full kitchen to host Greek culinary events, two hall spaces to host community events and celebrations, and the church space. A special ceremony which enforces Greek culture and customs is, for example, the May 25th day of Greek Independence from Ottoman rule. During this day, the entire Greek community feasts in our church hall on traditional foods; we wear traditional dress; the youth in the community dress up and perform traditional Greek dances and read commemorative poems.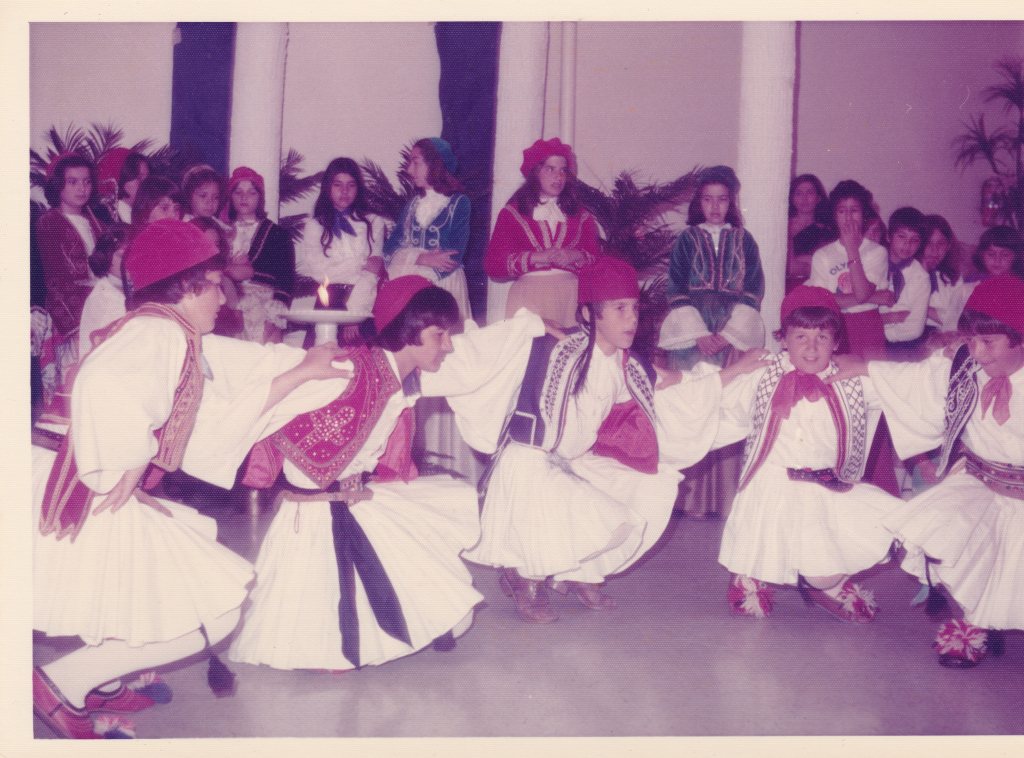 George Katinas, the Project Lead for the Kingston Greek History Project, immigrated to Kingston in the 1970s. He was shocked when he attended the May 25th celebration and saw people wearing foustanellas – traditional Greek skirts for men – since people in Greece didn't really do so anymore. In his opinion, when he first came to Kingston, he saw Greek Canadians adhering to cultural norms that were evident in Greece 20-30 years prior. For example, he found Greek Canadians more "strict" in their families than Greeks in Greece were. He saw, in Kingston, Greeks who had a strong desire to keep their traditional culture, dancing, language, and celebrations. Being from somewhere else, George offers as an explanation, makes people want to preserve their distinctiveness. "Your culture might feel threatened when you're in a sea of Canadian culture", he says, and so Greek Canadians have striven to preserve theirs, even if it is a form of a more traditional Greek culture that is being preserved. When he had his own daughter, Athena, he found himself wanting to teach her the Greek national anthem, to teach her Greek, to give her a distinctively Greek name, and to baptize her Greek Orthodox, even though he doesn't feel particularly nationalistic. In being surrounded by Canadian culture, he found it important to have his child feel connected to her roots, and to preserve her Greekhood; this is what happens with Greeks immigrating to Canada, although on a large scale which builds cultural institutions such as Greek School: they want to preserve their roots and their culture amidst the broader society, leading Greeks to typically have a strong pride in their Greekhood.
THE IMPORTANCE OF THE GREEK LANGUAGE IN CULTURE UPKEEP
Language is an important component of culture: up-keeping one's language is intimately tied with up-keeping one's culture. Many Greek immigrant parents speak Greek in their homes, encouraging a retention of the language throughout following generations. The importance of this language education can be seen through the Greek School: the Greek School is a pillar of life growing up in the Greek community.
George Katinas, when asked if he tried to preserve the Greek language and culture through his daughter, stated that ever since she could speak, he wanted to impart on her the Greek language as a vehicle for the Greek culture. This process, he said, "started before she was born", when he and his wife were thinking of names and wanted to give her the name Athena after the Greek goddess of wisdom and war. He recalls teaching Athena Greek as she grew up: he read Greek children's books to her; he wrote the Greek alphabet out on the times of his home's patio and would point to the tiles so Athena could yell out the letter. For George, the benefit of Athena learning Greek was "emotional rather than logical", so that she would have a distinctive identity and some roots that she could rely on and "use them to sustain her". It is important, George feels, that Athena can communicate with her relatives in Greece; he also sees the benefit of having a shared language between him and his daughter, because he felt he could establish a personal connection with her through Greek.
In the stories of other members of our Greek community in Kingston, many cite the importance of speaking Greek in the home.  Many families seek to keep up the Greek culture through generations by teaching their children the Greek language and customs. Spiro Sakell, an active member of the Greek Community in Kingston and a descendant of one of the first Greek families in Kingston, and his wife Maureen expressed to me their pride in seeing their children and grandchildren up-keeping the Greek culture and customs. Even though Spiro is himself married to a non-Greek, and his children all married non-Greeks, "everyone in the family celebrates a portion of Greek culture". They all celebrate Greek Easter, for example: they all get together in Kingston and crack the red eggs (something their small Grandson is always excited to do), go to Church, roast a lamb, and more. Maureen feels it has been an important part of their lives, and even if they don't speak Greek, they've managed to maintain the Greek culture. If she and Spiro decided one year that they wouldn't do Greek Easter, they feel that everyone in the family would object and say they had to. Of course, the Greek culture can be imparted on the next generations without instruction on the Greek language, but often the two go hand-in-hand.
THE GREEK SCHOOL AND SUNDAY SCHOOL TODAY
Paula Antonakos-Boswell is our current Sunday School teacher, although she has also been a Greek School teacher in the past. Greek school today is sponsored by Limestone District School board, and is intended for children ages 4-14. "Junior"-level students attend Greek school on Saturday morning, and "senior"-level students attend on Saturday afternoon. It takes place in the upstairs of the church. Elaine Gatzios is the current Sunday School teacher. Paula is our current Sunday School teacher and has taught Sunday school for years. Presvytera Eleni, Presvytera Dina, Presvytera Adriani, Kathy Mardikis, Murva Nikas, and Shelley Nikas were all dedicated Sunday school teachers that Paula remembers during her time in the community.
In Paula's Sunday school class, every week starts off with the "parable of the week". The kids learn it in an age-appropriate manner, then usually do a craft or activity sheet to go along with it. Once they go downstairs and into the church to receive communion, the Priest will usually read the parable again out of the bible and so they get a chance to reinforce the lesson and its meanings. Parables, as Paula describes them, have to do with being a good citizen and seek to teach values such as honesty, trust, and forgiveness. When the children come back upstairs from Communion, she may read stories, show them relevant movies, or organize skits relating to the parables.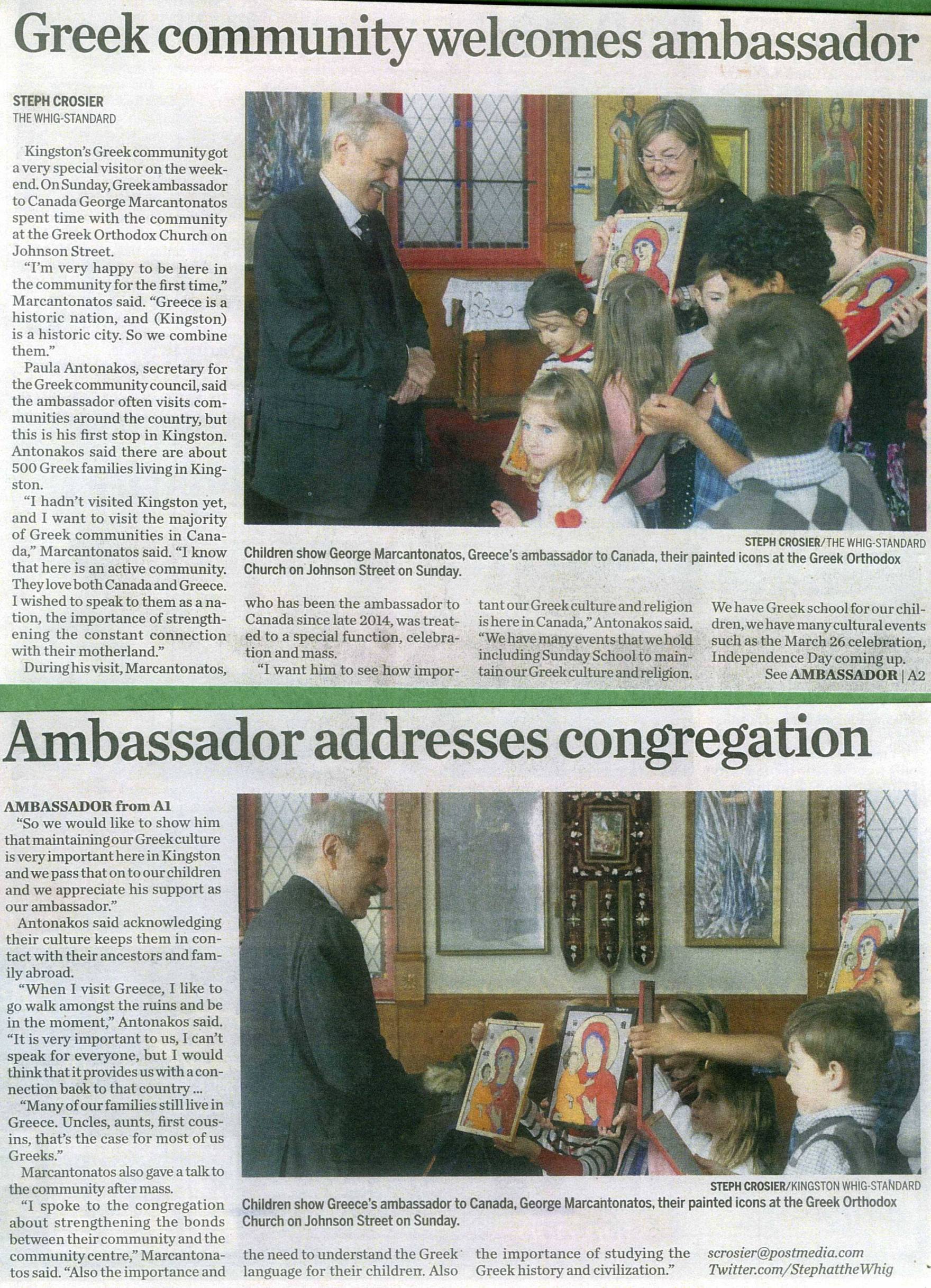 In this video, Paula Antonakos Boswell, the current Sunday School teacher for Kingston's Greek Community, speaks about the Greek School and Sunday School programs at Koimisis Tis Theotokou Greek Orthodox Church. She speaks about what Greek Orthodox Sunday School education is like, and why she loves doing it. As a former Greek school teacher, she also speaks about her time teaching Greek school here. Angeline Boswell, a former Greek School and Sunday School student, speaks about her memories of being part of these programs in Kingston.
The following two photos are taken for a Folklore event. They show Murva Nikas and her two sons, Jim and Tony. Murva had made these costumes by hand. Murva (also a non-Greek) married Chris Nikas; as we can see, the traditional Greek culture still persists as parents make an effort to pass it down to the next generation.
ESTABLISHING A GREEK SCHOOL IN KINGSTON
Please note that we were not able to include the stories and voices of all the Greek School and Sunday School teachers our community has been fortunate enough to have over the years, such as Mahi Karkoulis and Mary Mason who were important Greek School teachers for our community.
The Greek School in Kingston was established in 1964. From our narrators, we know that Manos Tryfonopoulos had applied for grants to begin the Greek School once the Board of Education introduced the Heritage Language Program. The grant applications were co-signed by Maria J. Karkoulis, who requested grants to fund Greek dancing lessons. Manos was passionate about "bringing young people into the church". He still has the letter he received when the Board of Education accepted the community's application to start a Greek school.
The first full-time Greek school teacher our community had was the priest at the time, Fr.Dimitrios Polychronadis. Maro Argyropoulos was another one of the first Greek school teachers, among others. Manos's son, John, was a student in the early years of our community's Greek school. He remembers the Greek school being very full, with 30 or 40 kids attending. In the days before our church got its adjacent hall, the classes would be held at KCVI.
Maria Triada Karkoulis was also a Greek School teacher for a period of time during the 1970's. Frank Karis was the president of the community at the time, and Maria worked as secretary of the community. She received authorization from the education board in Ottawa to teach Greek School. It was during the 1970's that the community built a hall adjacent to the church, and Maria remembers that once they had cleaned the hall, they wrote a letter to Greek parents welcoming their children to Greek school. Classes were held every Saturday between 2-4 p.m. Her sister-in-law (Maria J. Karkoulis) was still running the dance group at this time. Eventually, Maria Triada went on to become the Sunday School teacher for the community instead.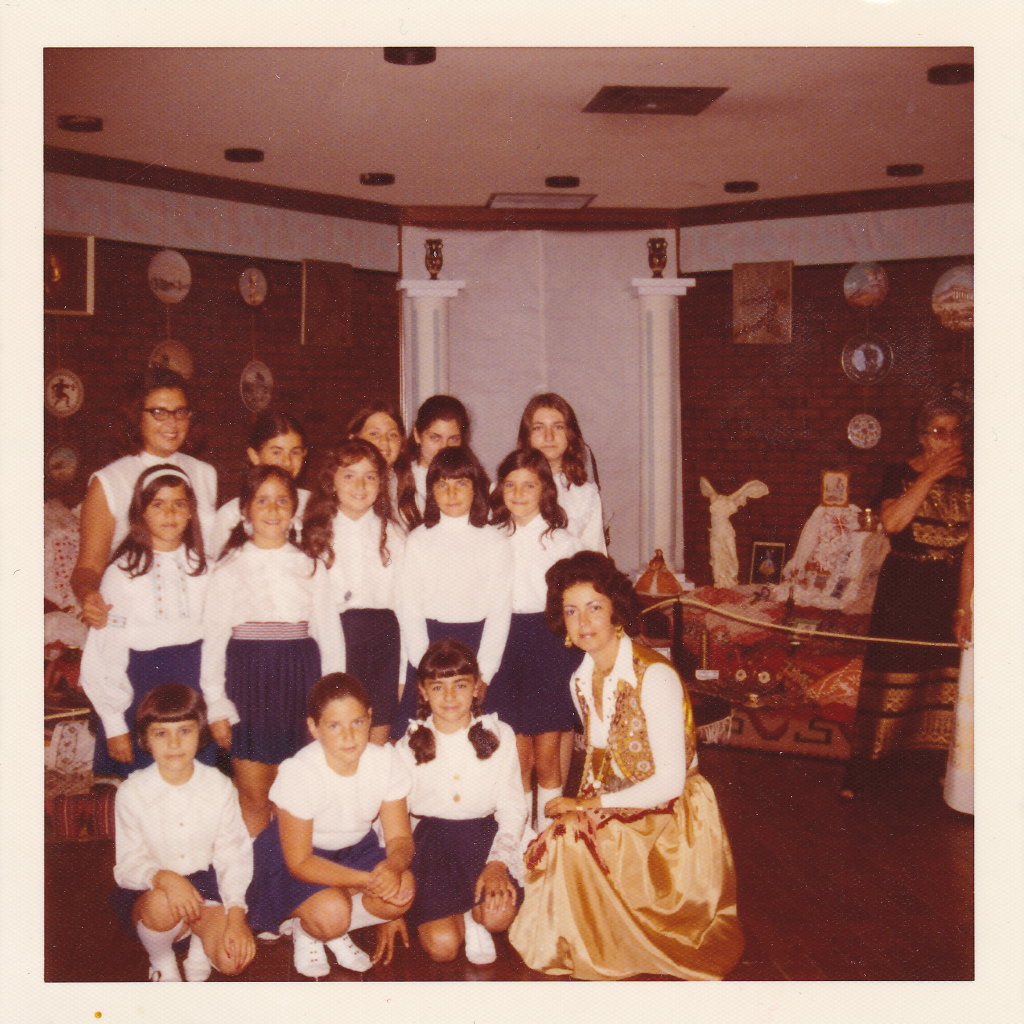 Cleo Frantzeskos was a Greek School teacher in our community for 12 years! She is very passionate about teaching, and was always a dedicated teacher. After immigrating to Canada from Cyprus in 1974, Cleo and her husband, Andreas, first lived in Melville, Saskatchewan. Together, they established a Greek school there. Cleo wanted to help everyone preserve their Greek culture and language. There were more Greek people in other nearby cities, so a lot of Greeks would travel there, but she wanted there to be something in Melville too. There were approximately 10-12 students attending the school they established.
Cleo brought the same enthusiasm for teaching the Greek language with her when the Frantzeskos family moved from Saskatchewan to Kingston in 1994. Cleo began teaching in our community's Greek school. There were approximately 20-25 students attending Greek school, and there were classes offered every Saturday morning. In addition to the Greek language classes, Greek school also offered lessons on dancing. As Cleo describes, it was not only about the language. Since Cleo cares deeply about up-keeping the Greek language, she tries to speak Greek with her grandchildren as much as she can. She reads Greek children's books to them, and she and Andreas have the Greek alphabet on their fridge for the kids to play with. She wants to make sure her grandchildren are in touch with their culture.
The photograph below depicts when our community awarded Cleo with a plaque, thanking her for her years of dedication and impactful teaching.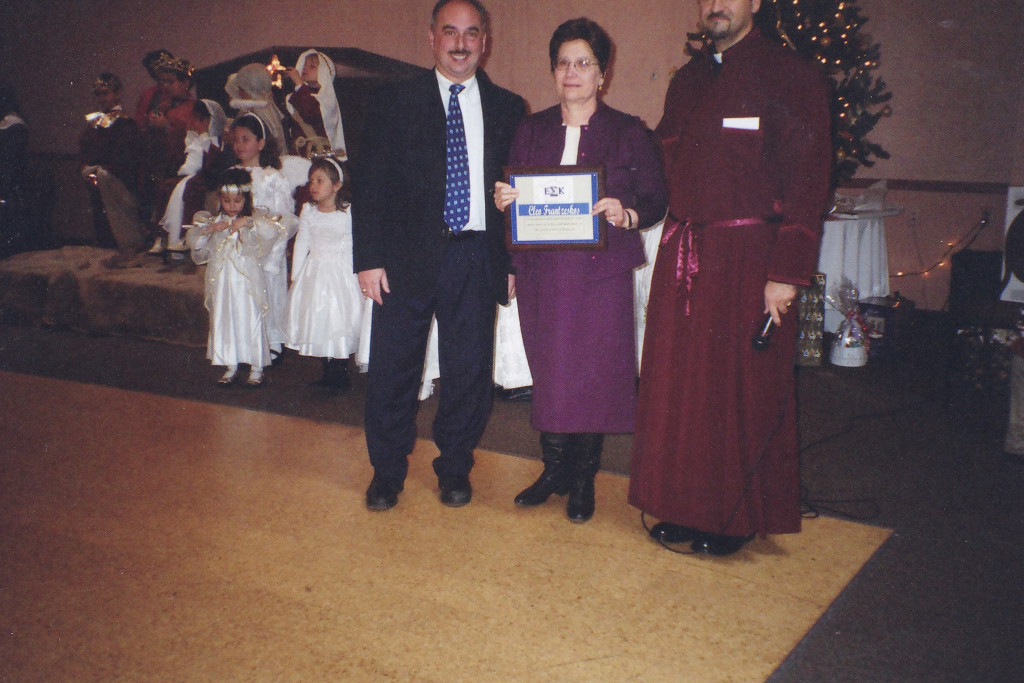 Olga Xenodochidou taught at the Greek school in our community between 2006 and 2013. Greek school occurred once a week, every Saturday from 9am-3pm. Olga found the experience fantastic. She describes in her interview how she introduced many things to the children she taught, like Greek history, mythology, geography, and more, in addition to learning the language. Olga also taught the total of ten Greek dances that her students "learned perfectly" and showcased in many occasions like during holiday performances and other big celebrations. Olga resigned from Greek School after the birth of her son, George, in order to invest more time into her family. The community will remember the impact she made on its youth through her teaching.
To read the full story, click here.