Location on the Walking Tour
The Cataraqui Cemetery, 927 Purdy's Mill Road.
Audio Clip
Listen to Afro Ioannidis speak about her experience immigrating to Canada as a domestic worker. 
The following audio clip is in Greek
.
This section of the Kingston Greek History tour will focus on the general narrator stories of those who we interviewed for this project, as well as on some of the immigration stories of women within the community. The Cataraqui Cemetery in Kingston serves as the location to reflect on the Life Stories of our community members. It is in this cemetery that many members of the Greek Community are buried, to the extent that the Cataraqui cemetery has its own Greek section.
In memoriam for those who have passed away within our community, we have compiled this album of some of the gravestones in the Cataraqui Cemetery. This is by no means an exhaustive look at all those who have passed away within our community. Please click here to view them.
WOMEN'S IMMIGRATION TO CANADA: IMMIGRATION AS WIVES
In an article in Greek News Agenda titled "Rethinking Greece: Yiorgos Anagnostou on Greek America, Greek American Studies and the Diasporic Perspective as Syncretism and Hybridity", Yiorgos Anagnostou states that the typical immigration stories of "perseverance, endurance, and hard work" that "[permeate] Greek American self-representation" (although the same can be said for Greek Canadian representation) are largely male-dominated. He argues that a narrative with emphasis on socioeconomic mobility, especially as a marker for success, is "a male one"; and women tend to emphasize "civic and community contributions" in their narratives of immigration. This means that not only the experience of immigration itself, but also the way in which the experience of immigration is described, differs between male and female voices. Female voices in immigration stories are much needed, as their experiences tended to be largely different.
While immigration stories of Greek Canadians tend to be male-dominated, the decisions around family immigration itself tended to be male-dominated as well. It is important to provide examples of a female point-of-view for these immigration stories, in order to understand what this journey was like for Greek Canadian women at the time. In the stories of those we collected for this project, many women spoke about immigrating to Canada in order to join their husbands. This sometimes meant leaving behind their own families forgoing their own life trajectories in order to build a family in a new country. Making this choice to immigrate to Canada was an important decision that Greek Canadian women faced, and it is fascinating to listen to how women chose to take this path – venturing out into the unknown, saying goodbye to loved ones and former dreams, with hope for a better life overseas.
Many early Greek immigrant women came to Kingston as wives of husbands who were establishing themselves economically in this new country. Together, they would build families. Coming from a culture with traditional values, many Greek marriages in the early-mid twentieth century were arranged. A woman's role in the family was traditionally expected to be in the domestic and child-care sphere, but we see many Greek Canadian immigrant women working since the economic situation for new immigrants was difficult. Men worked long hours in order to provide for their families, and women often worked part-time in addition to caring for the children. Both men and women often used their connections within the Greek Community to secure employment.
WOMEN'S IMMIGRATION TO CANADA: DOMESTIC WORKERS
One way that the usual immigration narrative – that husbands brought wives over to Canada – could be reversed was through the domestic working program, which brought over 10, 500 Greek women into Canada. This program was run between 1951 and 1963 (Noula 2013, 516). For some time, this was "the only way Greek women could get into Canada", at least as independent immigrants (515). According to Mina Noula, who wrote about this labor scheme which attracted "peasant Greek girls" and trained them for the type of domestic workers middle class Canadians expected, states: "the Greek domestics who came to Canada during the 1950s arrived at the beginning of the largest influx of Greek migration to Canada and were typically the first of their families to emigrate" (518). This was a new concept, since it was only really in the start of the 20thcentury that women could even immigrate to join their working husbands let alone immigrate themselves in order to work. These women could eventually even sponsor family members to come to Canada.
Afro Ioannidis, a member of our own Greek Community, came to Canada through this domestic working program. She and her husband, George, had already been trying to come to Canada with great difficulties. Afro applied for the domestic working program, and Afro remembers the day when she saw a woman from the group she applied to and the woman asked her if she was ready to leave. This is when Afro learned that she had been accepted into the program, and that she was about to leave to be a housekeeper in Canada. She immigrated to Montreal with only $20 in her pocket. Afro remembers having to do an interview in order to be placed in a home. She was 23 years old, and she was working for a woman who was 28 years old with two children. Afro would work until 4pm every evening, and then she "didn't know what to do or where to go" afterwards. Eventually, she made circles of friends. Afro had learned English in Athens, but she couldn't have a conversation. She learned proper phrases gradually, such as saying "hi" instead of "how do you do", as she had only learned the formal way of speaking English.
Canadian families that hired housekeepers like Afro treated their personnel exceptionally well. Afro believes that quality of life improved for these women; for example, she says, in 1963 there was no indoor plumbing system in Greek villages, yet here they were growing accustomed to such luxuries. It took a few months in order for the paperwork to go through to bring her husband to Canada.  Afro and her sister were the first people in their family to leave Greece. It was unusual for women to be immigrating independently at this time, and so it is a unique situation. Afro and her husband lived in Montreal for 7 years before moving to Kingston.
References: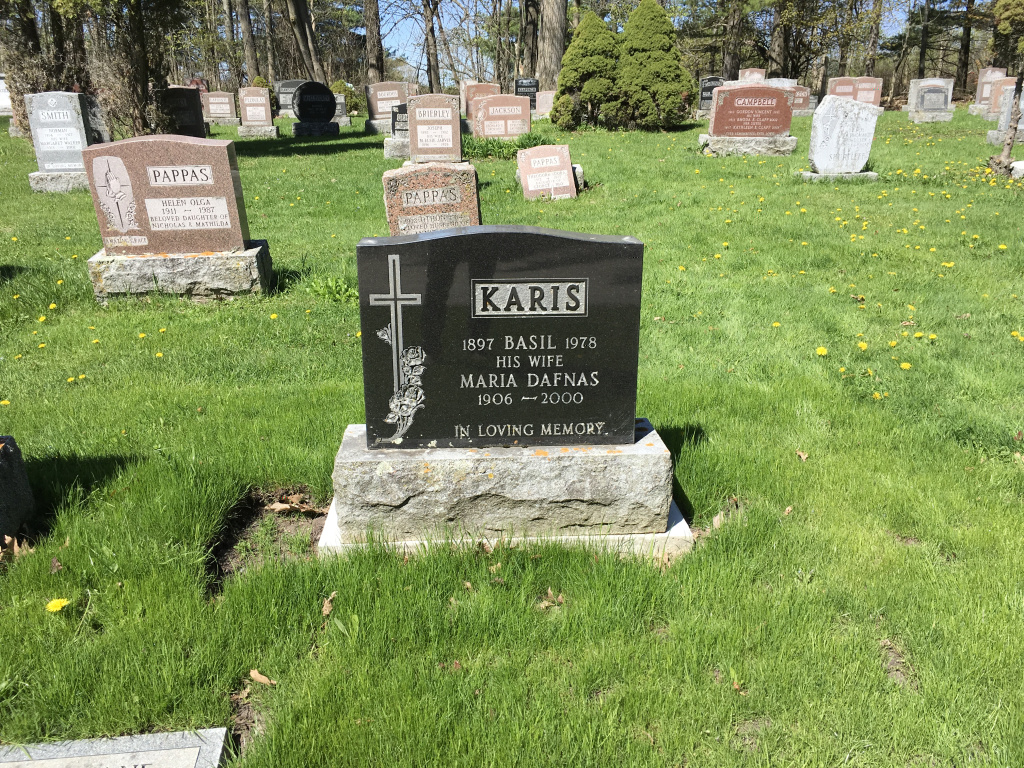 NARRATOR STORIES: THE FIRST WAVE OF GREEK IMMIGRANTS
NARRATOR STORIES: FAMILIES AFTER WORLD WAR TWO
NARRATOR STORIES: RECENT COMMUNITY MEMBERS
These stories are only based on the narrators included in this project, and based only on the information they have given us about themselves and their families in their interviews. We know there are many other families, and many other stories, that have yet to be told!
To read the full story, click here.