Street Address: 149-155 Brock Street, formerly John McKay's fur factory
Beavers were central to the colonial economy of Canada. Vast quantities of beaver flesh and fur were sent from Canada to Europe largely to satisfy the fashion trade. As early as 1621, beavers had become symbols of colonial interests when, for example, Sir William Alexander, who was granted title to Nova Scotia, included them in his coat of arms. By 1678, beavers were also included in the coat of arms for the City of Quebec as well as Canada's longest running enterprise, the Hudson Bay Company. Beavers were even featured on a coin, called a buck, which had the same economic value as a beaver pelt.[1]
Beavers were widely hunted, and hunters used a variety of tactics to kill them. These included floating downstream in canoes so that they could silently get within gunshot range, dismantling beaver lodges, and luring beavers to traps using scents from dead beaver anuses or sex glands (body parts also used in the making of perfume).[2] The insatiable desire for beaver pelts caused the population to plummet until beavers were on the verge of extinction in the late 19th century.
At that time, Kingston was home to several fur shops and fashion outlets. These included stores owned by Joseph Rogers,[3] Henry Phiny,[4] and James McDowell[5] but the most famous and well-known furrier in Kingston was John McKay. This is where John McKay's Fur Factory once stood, and he also owned a retail shop on Princess Street and a warehouse along the railway tracks.[6] As you can see from the advert below, beavers were one of the many animals who were captured and killed for fashion and sold at McKay's. Shoppers could also find coats, scarves and hats made from the skin and fur of lambs, wolves, and raccoons.
By the early 20th century some Canadians were worried about the effect of the fur trade on beaver populations. This was in part due to growing recognition of beavers' valuable ecological skills and contribution.  See for example an article penned in May 1909 which discussed beavers' "instinct and cleverness" in building a dam so other animals could drink at the Lake of Two Rivers in Algonquin Park. Today many more Kingstonians have come to value beavers' ability to foster biodiversity. In 2017, for example, over 1,000 Kingstonians signed a petition to protect beavers in the city (such as those found around Belle Park).[7] The first reason they cited was that the beavers are essential to maintaining the city's wetlands. Many biologists would agree, calling beavers a "keystone species" because through their activities of munching down trees and building dams, beavers moderate hydrological cycles (like flooding and drought) and create habitats upon which many other animals rely. This is in fact a 'rediscovery' of traditional knowledge of Indigenous people who occupied the dry lands of the southern Prairie region and who forbade beaver hunting just for that reason.
Beavers' history in Canada shows how humans' valuations of different species can radically change and that this has impacts for the animals involved. Beavers were nearly driven to extinction because of the fur trade and yet today, as we come to better appreciate their ecological and cultural significance, their population has rebounded, and it is estimated that there are now anywhere between 6-12 million Canada-wide. However, one more question remains, what would it mean to value beavers for themselves, instead for their economic or ecological currency for humans?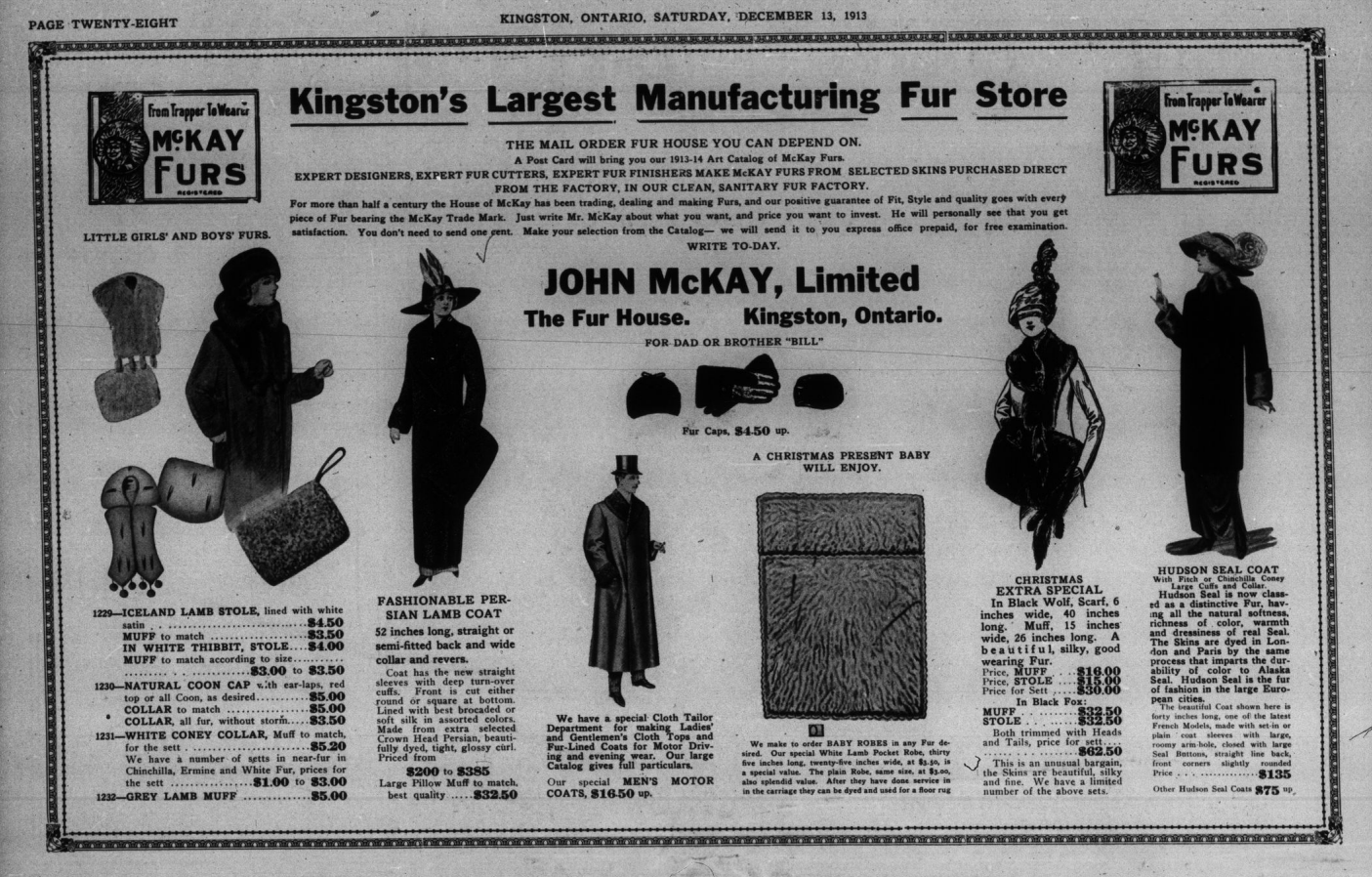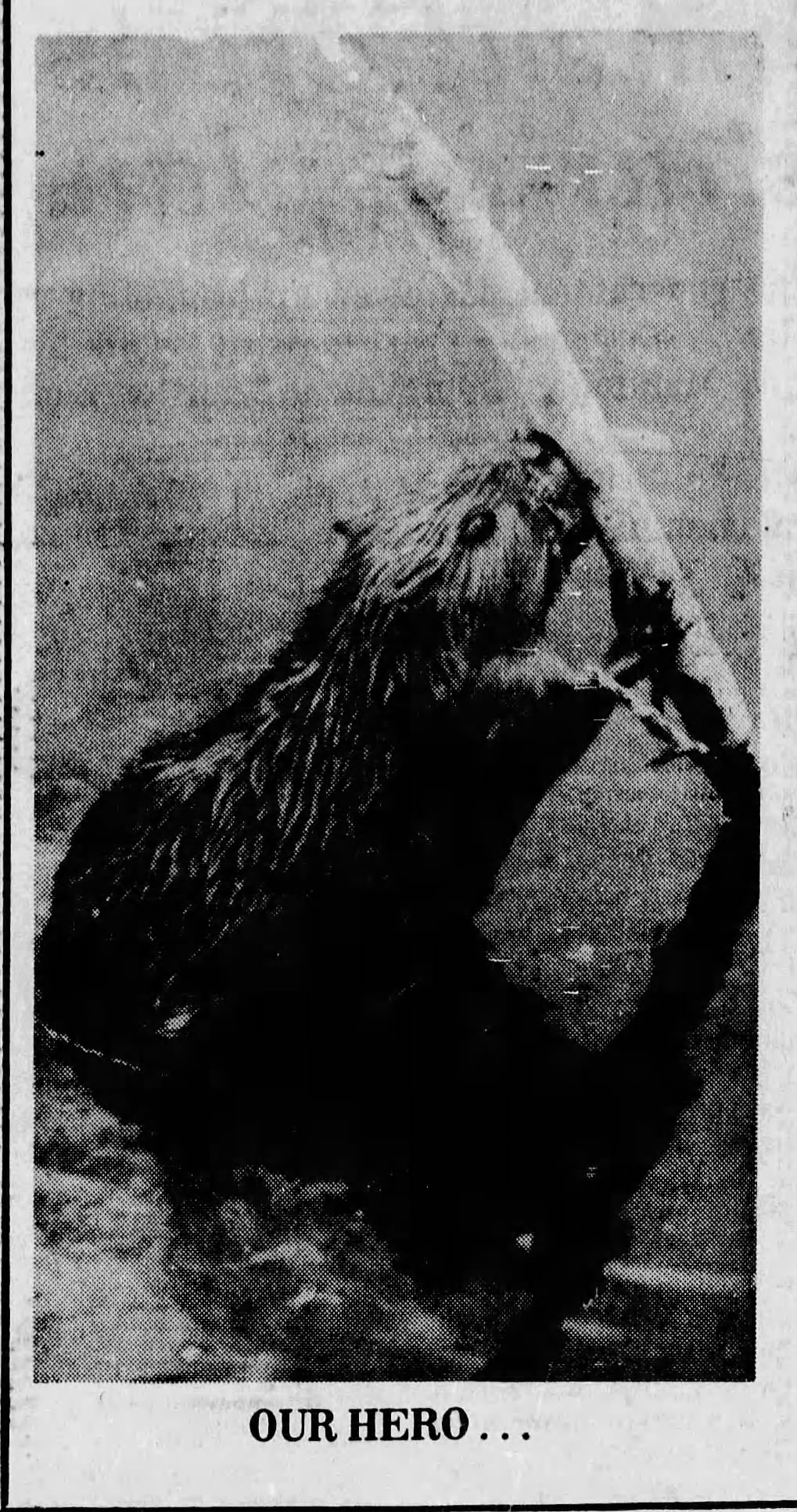 Notes and Credits:
Images: 
1828-11-01, "Furs and Skins." Kingston Chronicle. Page 3.
1839-06-05, "New Fur Establishment." Chronicle and Gazette. Page 4.
1841-09-04, "Fashionable Hat and Cap Store." Chronicle and Gazette. Page 3.
1847-03-30, "J.A. McDowall, Furrier and Hatter." The British Whig. Page 3.
1909-05-22, "Beaver shared continent." The Daily British Whig. Page 12.
1913-12-04, "McKay's Custom Made Furs." The Kingston Whig-Standard. Page 2.

1913-12-13, "Kingston's Largest Manufacturing Fur Store."

1977-10-28, "Canadian Beaver does so give a dam," Kingston Whig Standard, page 4.

John McKay's store (inside and outside) of 109 Princess Street and 149-155 Brock Street from Queen's University Archives (Source Q.U.A Neg U111-20,21)
Extras:
Fur, Fortune and Empire: The Epic History of the Fur Trade in America, by Eric Jay Dolin
Once they were hats: In Search of the Mighty Beaver, by Frances Backhouse
Eager: The Surprising, Secret Life of Beavers and Why they Matter, by Ben Goldfarb
The Beaver: It's Life and Impact, by Dietland Muller-Schwarze
Indians, Animal, and the Fur Trade: A Critique of Keepers of the Game, edited by Shepard Krech III
Castorologica of the History and Traditions of the Canadian Beaver, by Horace T. Martin
Beaver, by Rachel Poliquin
The Natural History of Canadian Mammals by Donna Naughton
Beavers are Busy, podcast episode by the All Creatures Podcast.
March of the Beaver, podcast episode by the National Geographic Podcast.
Beaver and Official Symbols of Canada on the Canadian Encyclopedia
Fur Trade on the Indigenous People Atlas of Canada.
The beaver: architect of biodiversity on Ontario Parks
Footnotes: