Street Address: 189 Princess Street, circus parade
 Elephants, the world's largest land mammals, live in socially complex, matrilineal societies that rely on the wisdom of elders. Partly because of their impressive stature and complexity, humans have always been drawn to elephants, and our unfortunate compulsion to dominate them dates to ancient empires, like the Egyptians and the Babylonians. Under British colonial rule wild animals across much of Asia and Africa were hunted, captured, and killed on a massive scale. They were killed not just as trophies, or for their ivory (as continues to this day); they were also killed, stuffed, and put on display as 'specimens' in natural history museums when scientific taxonomies started to take hold. Other elephants suffered longer torments in that they were kept alive and shipped across the world to be put on display in zoological gardens or carted around as part of menageries constructed around ideas of 'the exotic' and 'the orient'.
Many elephants travelled through Kingston as part of these travelling menageries and circuses. In 1835, a single elephant was brought into Kingston as part of the "Massive Menagerie and Aviary."[1] A Pavilion that could house 4,000 spectators was set up and the elephant was the main draw because she was equipped with a "splendid saddle, trimmed and decorated after the Eastern style." People could not only look at her but ride her too.
As these spectacles became more popular and more competitive the numbers of elephants involved increased and the tricks they were compelled to perform grew every more demeaning. In 1852, the Museum and Menagerie visited Kingston, dubbed "the largest travelling exhibition in the world", with enough seating for 15,000 people.[2] Once again elephants were the main attraction but instead of an individual elephant giving rides, a team of 10 elephants hauled "the Great car of Juggernaut" followed by a procession of cages with other animals to create "a spectacle of more than Oriental splendor." Another attraction was a small elephant calf who had been captured with his mother in Ceylon (today known as Sri Lanka) and weaned during the long voyage to North America. Messrs. S.B. June and ­­Jeorge Butter are said to have pursued the elephants for months and with the assistance of "260 natives" were able to "subdue" the animals.
As the decades wore on the spectacles became even more extravagant. Below is a photograph of a woman riding an elephant down Princess Street in the 1880s, passing in front of 189 Princess.[3] The elephant might have been part of Forepaugh's circus which visited Kingston several times that decade and was known to have "an excellent" street parade as well as "the only living giraffe in America." By this time circuses were big business and Forepaugh's included two tents, elevated stages, and racetracks. Undoubtedly subjected to violent and coercive training methods (as continues to this day), the elephants were made to do military drills and build pyramids as well as to perform as characters – such as "a boxing elephant" and "a clown elephant." Other big circuses such as P.T. Barnum's also visited Kingston and in 1885 they even had a show there with Jumbo shortly before the world-famous African elephant was killed in a train yard in St-Thomas, Ontario.[4]
While circuses (and zoos) continue to exist into the 21st century, the inclusion of elephants is much more controversial. In 2016, many Kingstonians protested the use of captive animals when the Shriner Circus came to town, and in 2018 the most well-known circus in the world, the Ringling Brothers, said it would stop using elephants in its shows. The human fascination with elephants seems to be shifting from a desire to capture, dominate and display them towards a more respectful relationship. A great example of this is the 2014 landmark case in India concerning Laxmi (now known as Jasmine), an elephant forced to perform at events. The Indian Supreme Court decided that elephants are social beings, deserving of protection and dignity and this is now enshrined in the country's constitution.[5] Considering Asian elephants have, for almost two hundred years, performed in Canada because of their entanglement in the British Colonial empire, perhaps it is time Canada looked to emerging ideas in India for guidance on how they should be treated.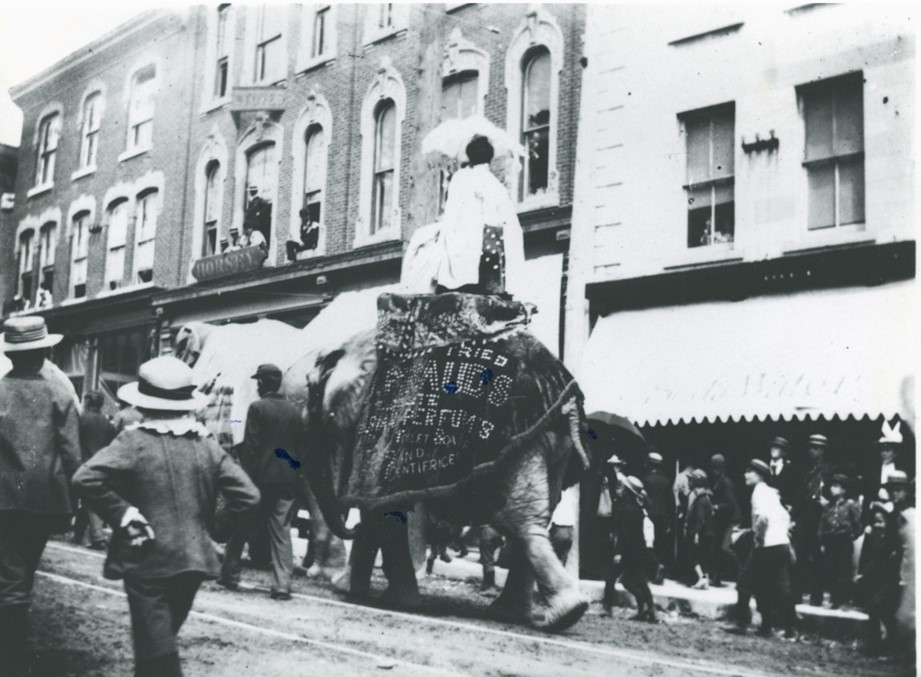 Notes and Credits:
Footnotes: 
Extras: 
Beyond Words: What Animals Think and Feel, by Carl Safina
The Last Elephants, by Colin Bell and Don Pinnok
Colonizing Animals: Interspecies Empire in Myanmar, by Jonathan Saha
Ivory: Power and Poaching in Africa, by Kieth Sommerville.
Thirty-Three Ways of Looking at an Elephant, by Dale Peterson
Entertaining Elephants: Animal Agency and the Business of the American Circus, by Susan Nance
Elephant, by Dan Whylie
Elephants and Kings: An Environmental History, by Thomas R. Trautmann
Animalia: An Anti-Imperial Bestiary of our Time, edited by Antoinette Burton and Renisa Mawani
Shooting an Elephant, an essay by George Orwell
Why elephants might go extinct in your lifetime, a mini documentary by National Geographic.
The Gentle Giants: The Elephant, a podcast episode on All the Creatures Podcast
War Elephants, a podcast episode on The Ancients
Elephant empire: zoos and colonial encounters in Eastern Europe, journal article by Marianna Szczygielska